Hang out with the whole Fox family in today's superheroic batch of new releases! Read on for a look inside the new Archie comics hitting stores 5/18/22:
To purchase Archie titles in print, visit the Archie Comics Online Store or find a comic shop near you using the Comic Shop Locator service.
---
THE FOX: FAMILY VALUES (ONE-SHOT)
The Fox: Family Values follows the life of the super heroic Patton family, all considered "freak magnets" who can't help but do what they can to save the day… whether they like it or not! First, Dean Haspiel returns to writing and art duties in "Mid-Life Pisces." Can a family of antiheroes with three different philosophical points of view break bread at the end of the day? The patriarch, investigative journalist Paul Patton, Jr. (aka THE FOX) is desperate to find another story. He tries to get his son, Shinji (aka GHOST FOX) to come along with him, but his teenage son is more interested in dating than finding exclusive stories! Meanwhile, his wife, Mae (SHE FOX) must confront some sins of her past in the form of two super-villains! Then, in "Back to Back," written by Vito Delsante with line art by Richard Ortiz, we venture to the past, before Paul and Mae were married! The two are hours away from their wedding ceremony and are presently missing their final wedding rehearsal while they're detained by a mad supervillain. How will they make it to their nuptials? All that PLUS a special reprint of a classic Fox story by the legendary Alex Toth!
Script: Dean Haspiel, Vito Delsante, Alex Toth
Art: Dean Haspiel, Richard Ortiz, Alex Toth, Matt Herms, Jack Morelli
Cover: Dean Haspiel
Variant Cover: George Caltsoudas
On Sale Date: 5/18
32-page, full color comic
$3.99 U.S.
.
GET YOUR COPY:
From the Archie Store
From Your Local Comic Shop
Read it Digitally on comiXology!

START READING NOW!
---

WORLD OF BETTY & VERONICA JUMBO COMICS DIGEST #15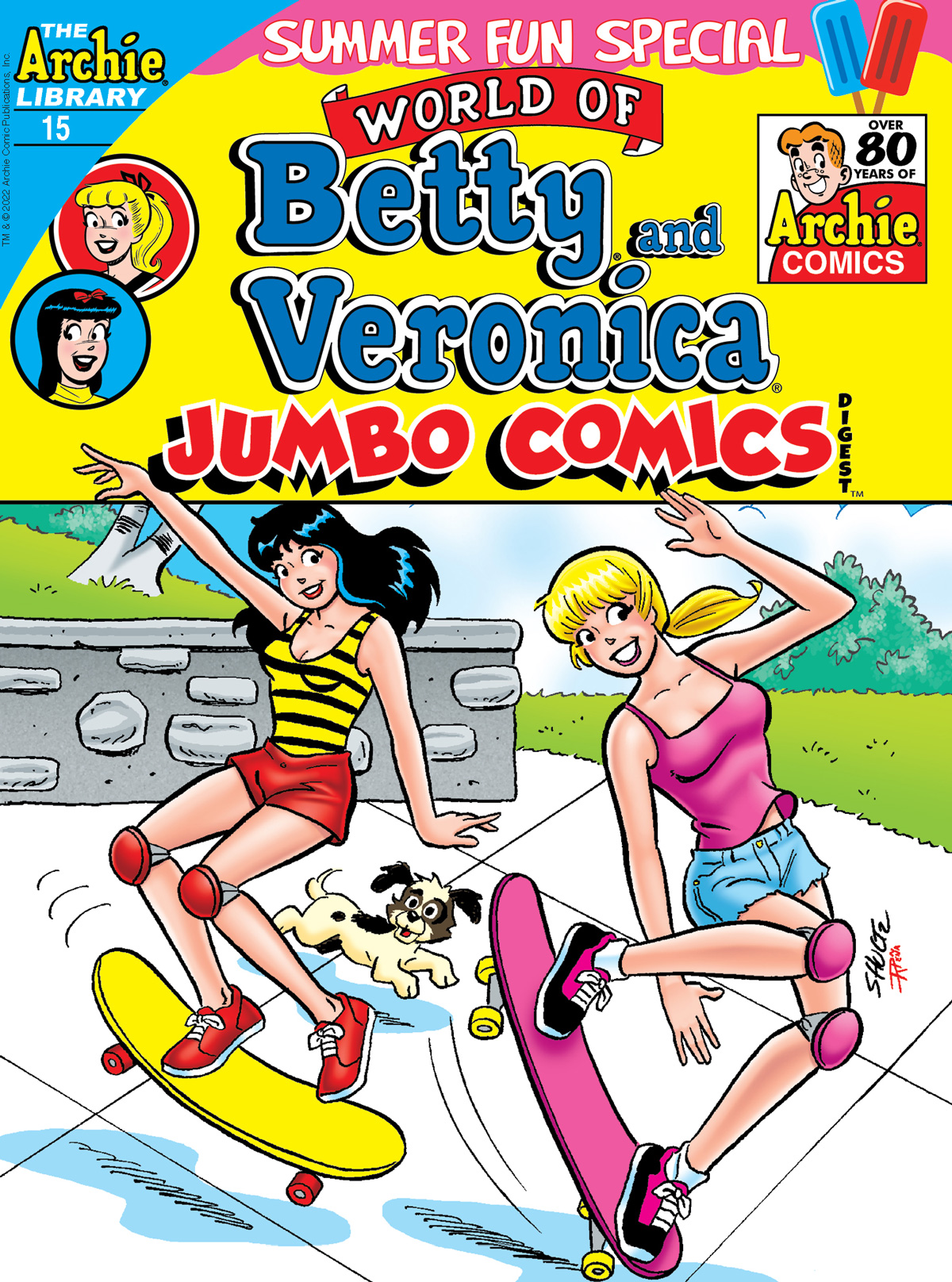 BRAND NEW STORY: "Driving Me Crazy!" Veronica has been gifted a fancy self-driving car by her father and is excited to show it off to Betty. But as soon as she activates the self-driving feature, the car has a mind of its own, taking them on a wacky tour of Riverdale, stopping at unusual stops along the way! Where will this vehicle with a mind of its own take her?
Script: Tania Del Rio
Art: Bill Golliher, Jim Amash, Glenn Whitmore, Jack Morelli
Cover: Bill Golliher, Jeff Shultz, Rosario "Tito" Peña
On Sale Date: 5/18
192-page, full color comic
$8.99 U.S.
GET YOUR COPY:
Subscribe at the Archie Shop!
Your Local Comic Shop
Read it Digitally on comiXology!

START READING NOW!
BIG ETHEL ENERGY #37
A WEBTOON DIGITAL EXCLUSIVE! After graduating from Riverdale High, Ethel couldn't get away from her hometown — and onto her chosen career path — fast enough. When the Mayor of Riverdale pays her handsomely to write a history of the city, she can't wait to return to take down Archie, Jughead, Betty, Veronica, and all the other Riverdale natives who made her life hell all those years ago. The only thing she forgets to consider is . . . maybe they've all changed, too.
Script: Keryl Brown Ahmed
Art: Siobhan Keenan, Maria Li, Cathy Le, Kielamel Sibal
Frequency: Weekly on Tuesdays
Series Start Page: https://www.webtoons.com/en/drama/archie-comics-big-ethel-energy/list?title_no=3363

PREVIEW THIS WEEK'S EPISODE!
---
NEWLY DIGITIZED CLASSIC COMICS
Read these on comiXology!